Hover Trimmer
Hover Trimmer Kits
Turn Your Traditional Strimmer in to a New Turbo Trimmer!
Propeller shaped and pulverizing blade with ultra protection safety shield suitable for all brands of strimmers
Introducing the New Patented Hover Trimmer System Exclusive Only from AutoLawnMow
Stop Wasting Your Time Trying to Thread Spools of Nylon String Through Your Trimmer Head!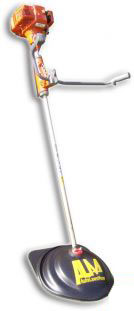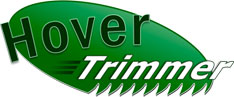 Introducing the new patented Hover Trimmer from AutoLawnMowhover trimmer system that floats on a cushion of air, and at the same time offers the operator protection from head to toe ensuring the new high protection safety shield give peace of mind to the working operator.
Grass is absorbed into the head of the hover dome system, and then pulverized into light particles thus creating natural environmentally friendly fertilizer. No waste grass to rake up or collect after trimming with the new hover trimmer system.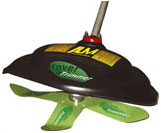 The new hover trimmer system head is virtually weightless, and as it hovers over the ground creates a cushion of air underneath the head system as it floats along. The patented aerodynamic propeller blade eliminates centrifuging and doubles the trimmer output, turning your trimmer machine into a turbo trimmer like no other.
The new Hover trimmer system will greatly reduce fuel consumption, pollution and working times by up to 50%. Once the ant-kinetic patented propeller blade reaches a speed of 5000 rpm the shock deviators create a barrier effect that stops the hurling power by 99%.
Operators working the new Hover trimmer system will no longer be subjected to the ongoing shower of debris and cutting material been hurled at them like traditional strimmers, The new Hover trimmer system requires no head or body protection, allowing the operator to work away easily in any situation, safe and free from flying debris.
The new hover trimmer system is manufactured in accordance with the health and safety regulations EEC 89/392, European safety laws n.626 of 19/09/1994 and also n.242 19/03/1996
Would like more information about Hover Trimmer, please visit http://www.hovertrimmer.com/