Robot Window Cleaner
Automatic Window Cleaner for your Home or Office!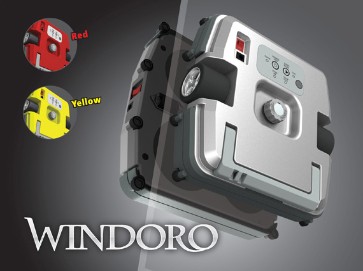 The Windoro automatic robot window cleaner is a South Korean invention and was recently presented to a western audience at a technology trade show in Germany 2011. There is no doubting a robot that automatically cleans windows around your home or retail store premises would create an exciting talking point with the neighbours or passersby wouldn't it?
If the idea of cleaning windows is something that strikes fear into you as it does the hearts of people, especially men. Cleaning takes time and as time is becoming a precious commodity, especially in the modern world, people simply don't want to spend it running around the house doing the same respective daily weekly ongoing cleaning tasks.
Technology and manufacturing companies over the past 50 years have always been researching and producing products to reduce the amount of time humans have to spend on respective ongoing endless household tasks. Windoro is the first and most exciting new automatic robot window cleaning product to hit the market launched in 2010 and is now fast becoming as popular as the world famous Robot Lawn Mowers from AutoLawnMow.
While some folks still haven't grasped the real power of domestic robots mowing their lawns or cleaning floors or now even cleaning the windows around their homes on automatic, many folks have moved forward into the 21st century and enjoy more time and freedom by allowing machines to do all the hard work just as various passed inventions like the washing machine, vacuum cleaner or dishwasher have allowed for tedious jobs to be reduced. However, the majority of smart consumer shoppers on line these days are quickly replacing their old household machines with new automatic machines just like they did back when the new automatic washing machine and dishwashers arrived. Switching over to robot machines for their home in these modern age of convenience.
Click Here To Learn and View
The World's First Amazing Window Cleaner